I think it's safe to say that…
Today you're going to get irritated, however the question that needs to be asked is are you going react or  respond to that irritation.
Are you going to focus your energy on the problem or are you going to focus on the possibilities?  Here's a story I found in some of my old papers the other day.  I'm not sure where it's from but, at any rate it will help you to focus correctly.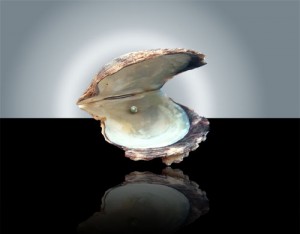 "A grain of sand finds it's way inside the shell of an oyster.  The intruder, though microscopic in size, is a source of irritation and pain to the soft body of the oyster.  Unable to rid itself of the unwelcome pebble, the oyster seeks to reduce the irritation by coating it with layers of soft, iridescent Mother of Pearl material from it's shell.  Over time the oyster transforms a painful irritation into a beautiful pearl of great value."
So, I my question to you is are you going to concentrate on the pain or possibilities?  Are you going to focus on the pebble or the pearl?  Transform potential breakdowns into breakthroughs and persist as the oyster does until you succeed.
Leave me a comment below and let me know what you think! And if you have any other tips or strategies to add, please put them below.
To your massive network marketing success,

Join Our Facebook Community and Ask Your Mindset and Marketing Questions on Our Page Today – Ed Reiner Fans (Free Mindset and Internet Marketing Strategies)
Watch Our Latest Mindset and Marketing Videos on Our YouTube Channel – Ed Reiner's YouTube – Massive Results TV
Keep Up to Date With Our Tweets – Ed's Tweets
The following two tabs change content below.
Ed Reiner
CEO
at
Global Visions Online, LLC
Ed Reiner is a personal development teacher partnered with Bob Proctor's LifeSuccess Consultants company and an internet marketer. He assists individuals in building their business online and helps transform their lives from the inside out.
Latest posts by Ed Reiner (see all)
Share Your Comments
comments
Powered by Facebook Comments
Tags: Persistence, postive attitude, success