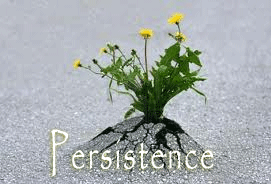 Success in network marketing requires you to to develop the habit of persistence.  In Napoleon Hill's classic, Think and Grow Rich, he devotes an entire chapter to the word persistence.  Hill says,
"There may be no heroic connotation to the word "persistence" but the quality is to a person's charter what carbon is to steel."
Later on in this post I'll go over a 5 step process for persistence that you can easily apply today to move forward in your network marketing business, so read on.
Later in Think and Grow Rich Hill said,
---
"THERE IS NO SUBSTITUTE FOR PERSISTENCE! It cannot be supplanted by any other quality! Remember this, and it will hearten you, in the beginning, when the going may seem difficult and slow.
Those who have cultivated the HABIT of persistence seem to enjoy insurance against failure. No matter how many times they are defeated, they finally arrive at the top of the ladder. Sometimes it appears that they have a hidden Guide whose duty is to test them through all sorts of discouraging experiences. Those who pick themselves up after defeat and keep on trying, arrive – and the world cries, "Bravo! I knew you could do it!" The hidden Guide lets no one enjoy great achievement without passing the PERSISTENCE TEST. Those who can't take it simply do not make the grade.
Those who can take it are bountifully rewarded for their PERSISTENCE. They receive, as their compensation, whatever goal they are pursuing."
---
So, here are some things we can do right now in our network marketing business that will move us forward in being persistent.
5 Step Process for Persistence
Ask yourself these two questions…
#1 – What is the next step I need to take that will move me forward?
#2 – What is in the way or stopping me from taking that step?
After you've answered the above then…
#3 – Remove, disregard, let go of and release the obstacle
#4 – Take ACTION and take the step
#5 – Go back to number one.
A very simple method to keep you moving forward.  I remember listen to Proctor tell us one time that to develop the habit of persistence one should take the chapter of Persistence from Hill's Think and Grow Rich and read it every day for a month.  In doing so you'll be developing the habit of persistence.
If you'd like to give it a shot then download the chapter here: Think and Grow Rich – Persistence.
Join our fanpage community and keep us posted on how you're doing with this exercise.
Ok, so in closing this post I want you to remember that if you're going to be successful in your network marketing business, or in life in general, you'll have to develop the habit of persistence and with persistence you'll gain the awareness that with every failure brings with it the seed of an equivalent success.
To your massive network marketing success,

Stop banging your head on the wall and struggling to build your business online. There's an easier way. Make the Decision, Right Now, that you're going to do what it takes to succeed. There's a simple system that I discovered and many top producers are using to create incomes that some only dream about. Give yourself the success you deserve – Click Here For Instant Access
Keep Up to Date With Our Tweets – Ed's Tweets
Join Our Facebook Community and Ask Your Mindset and Marketing Questions on Our Page Today – Ed Reiner Fans (Free Mindset and Internet Marketing Strategies)
Watch Our Latest Mindset and Marketing Videos on Our YouTube Channel – Ed Reiner's YouTube – Massive Results TV
The following two tabs change content below.
Ed Reiner
CEO
at
Global Visions Online, LLC
Ed Reiner is a personal development teacher partnered with Bob Proctor's LifeSuccess Consultants company and an internet marketer. He assists individuals in building their business online and helps transform their lives from the inside out.
Latest posts by Ed Reiner (see all)
Share Your Comments
comments
Powered by Facebook Comments