In the last post, Network Marketing Success Requires One Thing, we talked about results and how our thoughts dictate the results we get.  Now I want to go over what happens when your present results control your thinking.
[youtube]http://www.youtube.com/watch?v=8i4gc3onX_U&feature=plcp[/youtube]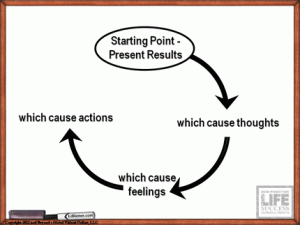 When you permit your present results to control your thoughts, your income cannot and will not improve.   The graphic here is a model of a person who is programmed to lose.  This is what they do, they look at their present results and say, "Well, this is where I'm at, this is my reality, and it's real".  They let bank account, their relationships dictate where they are.
They let their results control their thinking and their thinking controls their feelings and their feelings control their actions and as we've said before that those actions control the results.  They get the same results.  This is why people keep getting the same results time and time again.  If you want to change the results you need to change the image first.
Here's how we need to start changing the results in our life.  What we need to do is to start thinking into results, regardless of our present results.  We build and hold an image of what we want and we let the results dictate how we're progressing.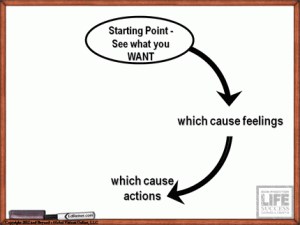 The wants cause the feelings, the feelings cause actions, and the actions produce the results we want.  Then we look at our results and say, "right on they've improved.  I think I'll build a bigger and better picture" and we go after a new goal.
That's what we want to do in order to have network marketing success.  We need to build the image of that success.
Start building this image of your success right now.  Write it in as much detail that you can.  Read it and write it over and over each time getting clearer and clearer.  Get emotionally involved with that idea let it become a part of your being and you'll be amazed at how fast your life begins to change.
To your massive online success,

Stop banging your head on the wall and struggling to build your business online. There's an easier way. Make the Decision, Right Now, that you're going to do what it takes to succeed. There's a simple system that I discovered and many top producers are using to create incomes that some only dream about. Give yourself the success you deserve – Click Here For Instant Access
Join Our Facebook Community and Ask Your Mindset and Marketing Questions on Our Page Today – Ed Reiner Fans (Free Mindset and Internet Marketing Strategies
Watch Our Latest Mindset and Marketing Videos on Our YouTube Channel – Ed Reiner's YouTube – Massive Results TV
Keep Up to Date With Our Tweets – Ed's Tweets
The following two tabs change content below.
Ed Reiner
CEO
at
Global Visions Online, LLC
Ed Reiner is a personal development teacher partnered with Bob Proctor's LifeSuccess Consultants company and an internet marketer. He assists individuals in building their business online and helps transform their lives from the inside out.
Latest posts by Ed Reiner (see all)
Share Your Comments
comments
Powered by Facebook Comments