Warning
: Illegal string offset 'disable_postoptin_global' in
/home1/reinclan/public_html/wp-content/plugins/premium-list-magnet/plm.php
on line
1220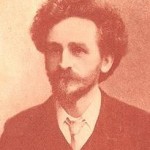 Unless you are brand new to the area of personal development and personal growth, you've not doubt heard of or read James Allen's classic "As a Man Thinketh".
This book was given to me several years ago when I first started to be coached and mentored by Bob Proctor, he was exposed to this book back in the early sixties when he got Earl Nightingale's recorded narration of the book which is available at the Nightingale-Conant website.
I remember being on a call with Bob years ago and he was talking about a time in his early life when things were going really good and then all of the sudden everything went wrong.  He had said that he locked himself in his house for a couple of weeks; it was a dark time as he put it.  Then something moved him to start listen to the recording of As a Man Thinketh and it literally changed his life.
James Allen was born in Leicester, Central England, on November 28, 1864.  Not much is know of Allen, he is sort of a literary mystery man.  He was a Victorian author who wrote 18 books and resided in Ilfracombe, England with his wife Lily.  As a Man Thinketh was not Allen's favorite but by far was his most popular.  Allen died in 1912 at 48 years old.
Thought and Charter
Allen begins the book with Thought and Charter, he says:
"As a man thinketh in his heart so is he," not only embraces the whole of a person's being, but is so comprehensive as to reach out to every condition and circumstance of his life. A man is literally what he thinks, his character being the complete sum of all his thoughts."
Many people have a hard time linking thought and circumstance and when we study this book, we begin to understand that we may not be able to change our circumstance but we can control our perception of our circumstance and our perception is controlled by our thinking and we choose our thoughts.
As a Man Thinketh creates an awareness of how important thought is.  It is the preamble of everything.  Everything begins with thought and when you study this book, you start to monitor your thinking.
This book is one of my favorites and I love the poetic style Allen has.  Everything flows so beautifully that you can easily read it about an hour.
I highly recommend this book to anyone looking to improve themselves.  I study this book often.  It is one that kicked started my journey towards personal growth into high gear.
If you have had any experience with this classic, please share with a comment below.
To your success,

P.S.- If you've never read this classic before than I want to suggest you do right away and I'll give you a copy as my gift to you.  All I ask is that you subscribe to my newsletter and invite your friends to this blog.
—–> My Gift "As a Man Thinketh"
The following two tabs change content below.
Ed Reiner
CEO
at
Global Visions Online, LLC
Ed Reiner is a personal development teacher partnered with Bob Proctor's LifeSuccess Consultants company and an internet marketer. He assists individuals in building their business online and helps transform their lives from the inside out.
Latest posts by Ed Reiner (see all)
Share Your Comments
comments
Powered by Facebook Comments
Tags: Bob Proctor, Earl Nightingale, James Allen, Man Thinketh, new thought movement, Perception, Personal Development, Personal Growth, power of thought